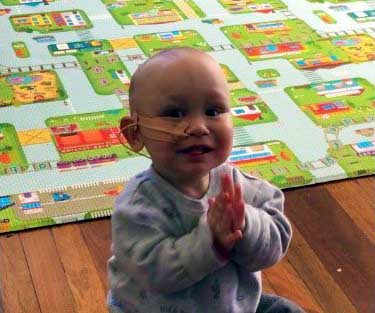 The QCPRRC is implementing early detection of infants at risk of CP before 6 months using the GM and HINE then fast tracking families to two randomisation trials in South East Quensland.
GAME is an early training intervention based on the key neuroscience principles of activity dependent plasticity, enriched environments and on successful training interventions known to work in older children with cerebral palsy and adults post-stroke. GAME is the only published protocol of an infant-friendly early, intense, specific training intervention grounded in contemporary neuroscience, tested for safety and early efficacy, and is acceptable to parents.
GAME is Recruiting families in NSW, Vic, and now from five sites in QLD - Lady Cilento Children's Hospital, Royal Brisbane and Women's Hospital, The Mater Mothers' Hospital, Gold Coast University Hospital and the Sunshine Coast University Hospital.  Currently 55 out of the required 300 families have been recruited when their infant was aged between 3 to 6 months corrected age with a diagnosis of cerebral palsy or diagnosis of high risk of cerebral palsy. Infants are randomised into one of two groups - GAME group or Traditional Early Intervention group and have follow-up assessments on a range of outcomes including fine and gross motor skills until the child reaches 24 months corrected age.
One of our study mums' wrote "My son Jaxon was diagnosed with Cerebral Palsy at 4 months and we are so fortunate to be taking in part in the GAME study.  Jaxon has made significant gains and when the team first saw him he was not sitting or even rolling yet. His movement globally was quite limited. With persistence, daily repetition and Jaxon's natural motivation to move he soon rolled in both directions and now he is unstoppable!  At 12 months corrected age Jaxon can sit, get into a seated position, roll and is just beginning to crawl. I would also like to take the opportunity to sincerely thank the efforts of GAME Physiotherapist, Carly, and Occupational Therapist, Andrea, who have set Jaxon and I up for success. They are truly passionate about what they do and have been instrumental in Jaxon's progress."
Contact Details
For more information, please contact Dr Tracey Evans, GAME Clinical Research Coordinator, Ph: (07) 3069 7365 or E: QCPRRC@uq.edu.au or W: https://cre-auscpctn.centre.uq.edu.au/project/game.
This project is funded by NHMRC Project Grant 1120031
Chief Investigators: Prof. Iona Novak, Dr Cathy Morgan, Prof. N Badawi, Prof. Roslyn Boyd, A/Prof. Alicia Spittle, Prof. R Dale, Ms A Kirby, A/Prof R Hunt, Dr K Whittingham, Dr K Pannek. A/Prof M Fahey.
Associate Investigators: A/Prof K Walker, A/Prof A Guzetta, Dr K Prelog, Prof W Tarnow-Mordi, Prof S Rose, Ms C Galea, Ms S Clough, A/Prof R Morton, Dr A Tran.