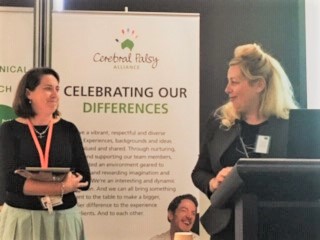 From 1st to 6th November 2018, the Australasian Cerebral Palsy Clinical Trials Network (AusCP-CTN) welcomed over 150 researchers, families, medical clinicians and health professionals from all over Australia and internationally, at the annual AusCP-CTN Education Week, hosted by the Cerebral Palsy Alliance, New South Wales. The multi-event program featured:
A 'Consumer Engagement Workshop for Researchers', hosted by renowned consumer advocate Anne McKenzie AM, aimed at helping researchers to engage consumers in the research process,
A 'Train-the-Trainer Workshop' also hosted by Anne, to help researchers understand the issues faced by parents and how to best partner with them through the research process, and
The Hot Topics in CP Research Forum, which brought together international and local experts in CP to share the latest research outputs with a packed audience of more than 100 medical clinicians, allied health professionals, researchers, and families from all over Australia and overseas.
The research forum featured presentations from leading researchers and clinicians in the field of neurology and disability in children, showcasing the work being done to improve early diagnosis and intervention for children with, or at risk of, cerebral palsy.
Professor Steven Miller (Head of Neurology, The Hospital for Sick Children, Canada) was featured as the keynote speaker for the forum. Prof. Miller highlighted the power of using advanced imaging technology to examine brain development that occurs in babies born preterm through their medical care in a NICU, where preterm birth remains a leading cause of childhood and lifelong disability.
The program was very well received by our audiences, in particular presentation from Hiam Sakakini (Board Member, Cerebral Palsy Alliance). As a parent with a child with CP, Hiam shared her personal experiences and views on the importance of early detection and 'evidence-based' trials. She highlighted the importance of advocating for transparent communication and collaboration across the board (clinical, research, community) for better patient care.
A major highlight of the forum was an update from the Australian Cerebral Palsy Register by Drs Sarah McIntyre and Hayley Smithers-Sheedy. The ACPR report that was launched in December, 2018 has reported a 30% reduction in the rate of Cerebral Palsy from 1 in 500 children to 1 in 700 children born with CP. Professor Nadia Badawi highlighted that this massive step forward can be attributed to multiple factors including improved obstetric and maternal care, and better neonatal care. The forum highlighted the incredible progress being made in identifying cerebral palsy at an early age to pave the way for early intervention.
For more information: 2018 AusCP-CTN Education Week.