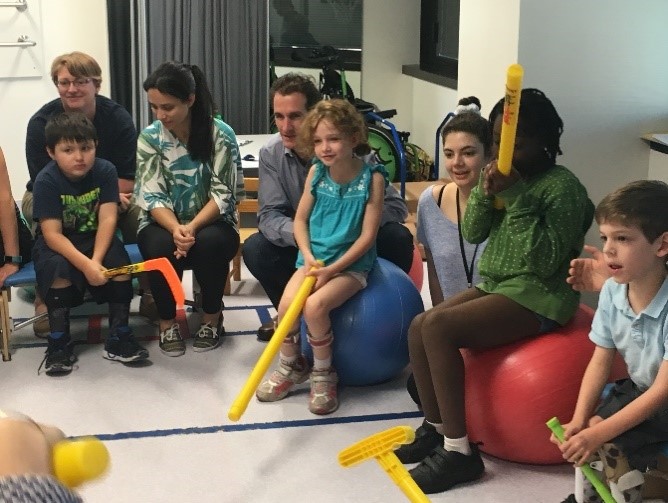 In the September school holidays, seven excited children with cerebral palsy (CP) took part in the very first HABIT-ILE research therapy camp in Australia. Days were filled with endless games, arts and crafts, dancing, running, and memorable moments of the viral song 'Baby Shark'. Participating children worked extremely hard on their chosen functional goals, supported by almost 20 qualified therapists and over 10 student volunteers across the two week school holiday program. 
We are still actively recruiting children 6-16 years of age with bilateral CP (where both sides of the body are impacted, usually called 'diplegia', 'triplegia' or 'quadriplegia') for the Brisbane site. Further camps will be held during school holiday periods in April and September 2019, and April and September 2020. You can register your interest for the camps by viewing the information here. Recruitment is subject to some further eligibility criteria which will be discussed on the phone with you.
The Hand Arm Bimanual Intensive Training including Lower Extremity Training (HABIT-ILE) study is a large, multi-site study funded by the National Health and Medical Research Council of Australia and led by Chief Investigator and QCPRRC Senior Research Fellow Dr Leanne Sakzewski. HABIT-ILE is based on state-of-the-art science in neuroplasticity and motor learning for children with bilateral CP. The therapy was developed by Professor Yannick Bleyenheuft, Chair of Neurophysiological Evidence in Intensive Neurorehabilitation, Institute of Neuroscience at UCLouvain in Belgium.
Contact Details:
For recruitment and general enquiries, contact the team at habitile.qcprrc@uq.edu.au. For scientific & media enquiries: Dr Leanne Sakzewski at l.sakzewski1@uq.edu.au; 07 3069 7345.
This project is funded by NHMRC 1144846.
Chief Investigators: Dr Leanne Sakzewski, Professor Roslyn Boyd, Professor Yannick Bleyenheuft, Professor Iona Novak, Professor Catherine Elliott, Dr Cathy Morgan, Dr Kerstin Pannek.
Associate Investigators: Dr David Rowell, Ms Prue Golland, Professor Robert Ware.