Congratulations to 30 of our ACTIVATE-CP study participants, families, and volunteers who braved the early morning start to complete the community ride as part of the Great Brisbane Bike Ride in May.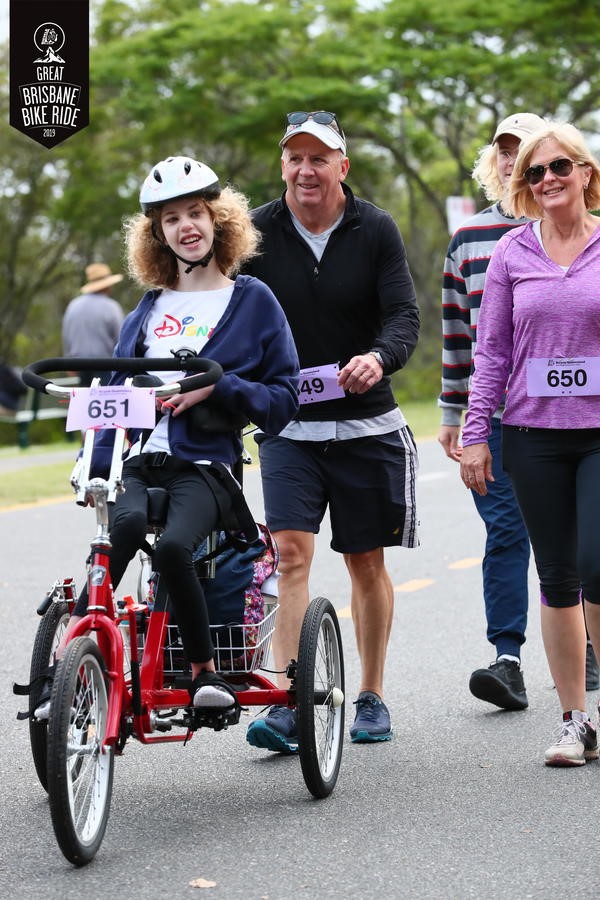 Participation by either running and/or bike riding, there were big smiles and high-fives all round as riders completed the 6km course, with many time and distance goals exceeded. It was fantastic to see participants ride on a variety of adapted bikes, including tricycles, recumbent and tandem cycles. A big thank you to Bicycle Queensland for facilitating the event and to the families, friends, volunteers and staff who supported us across the finish line!
ACTIVATE-CP is investigating the effects of an 8-week training program of functional electrical stimulation (FES) powered cycling, recreational cycling and sit-to-stand transfer training in children with CP who are classified as level II, III or IV on the Gross Motor Function Classification Scale.
The study was developed to address the paucity of evidence-based interventions to help children with CP to improve their sit-to-stand transfers and participation in recreational cycling. Functional electrical stimulation powered cycling has been used among people with spinal cord injuries, CP and other neurological conditions to reduce or prevent muscle atrophy, improve circulation and increase joint range of motion.
The addition of FES-powered cycling in the training program will assist children in achieving higher intensities of exercise and will supplement a home cycling program using adapted tricycles. Participant's goals for the project so far have ranged from learning to pedal, to participating in cycling events in the community.
Thanks to the support of the Queensland Paediatric Rehabilitation Service, our local bike shops and input from our families, our bike library has expanded to include recumbent-style bikes that are suited to children who have difficulty transferring onto traditional upright trikes. Recruitment for this study is currently closed and as we're working through last few sessions with participants and data analysis.
The study has been registered at http://www.ANZCTR.org.au/ACTRN12617000644369p.aspx.
For more photos of our other amazing riders: https://raceatlas.com/photos/great-brisbane-bike-ride
Contact Details: For recruitment and general enquiries, contact Ellen Armstrong ellen.armstrong@griffithuni.edu.au.
This project is funded by the Griffith University Postgraduate Research Scholarship.
Chief Investigators: Ms Ellen Armstrong, Dr Chris Carty, Prof Roslyn Boyd, Dr Sean Horan, and Ms Megan Kentish.