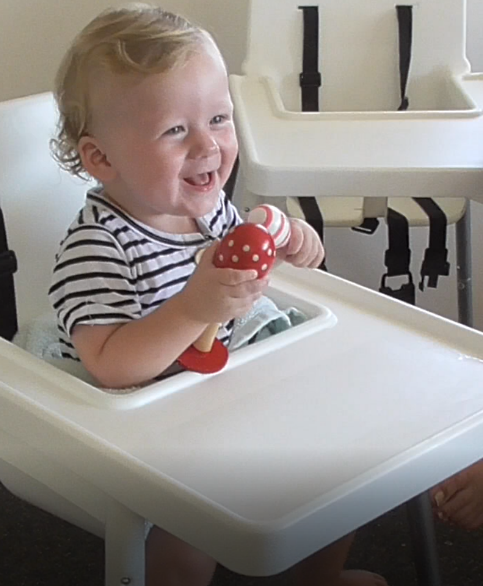 REACH is a multisite study which recruited families from Australia (Queensland, New South Wales, Victoria and Western Australia) and the United States (Minnesota, Ohio and Riverside County). The aim is to compare two types of therapy, an intensive infant friendly one handed approach using modified Constraint Induced Movement Therapy (mCIMT) to an equally intensive two handed approach using Bimanual Therapy (BIM). Infants with asymmetric brain lesions were recruited before the age of 9 months corrected age (c.a.) and randomised to one of the two groups. They were assessed on a range of outcomes including unimanual capacity and bimanual co-ordination, fine motor skills and cognitive development at 12-15 months c.a. and 24 months c.a. With COVID-19 restrictions this year, home and clinic therapy and assessment visits were replaced with telehealth sessions. During this time recruitment was completed and any remaining therapy sessions and assessments were followed up remotely. As restrictions eased, the home and clinic visits were recommenced and the study was continued as previously conducted. All 96 infants in the study have now completed the home therapy visits, while only twenty of the 24 month assessments remain to be completed. Once this occurs the investigators will commence data analysis so the results of the study can be published.  
Contact Details: Dr Tracey Evans, REACH Clinical Research Coordinator, (07) 3069 7365, QCPRRC@uq.edu.au.
This project is funded by NHMRC Project Grant 1078877.
Chief Investigators: Prof. Roslyn Boyd, Prof. Jenny Ziviani, Dr Leanne Sakzewski, Prof. Iona Novak, Prof. Nadia Badawi, Dr Kerstin Pannek, Prof. Catherine Elliott, Dr Sue Greaves, A/Prof. Andrea Guzzetta, Dr Koa Whittingham, Dr Natalie Maitre, Dr Jill Heathcock, Dr Bernadette Gillick, A/Prof. Young-min Kim.