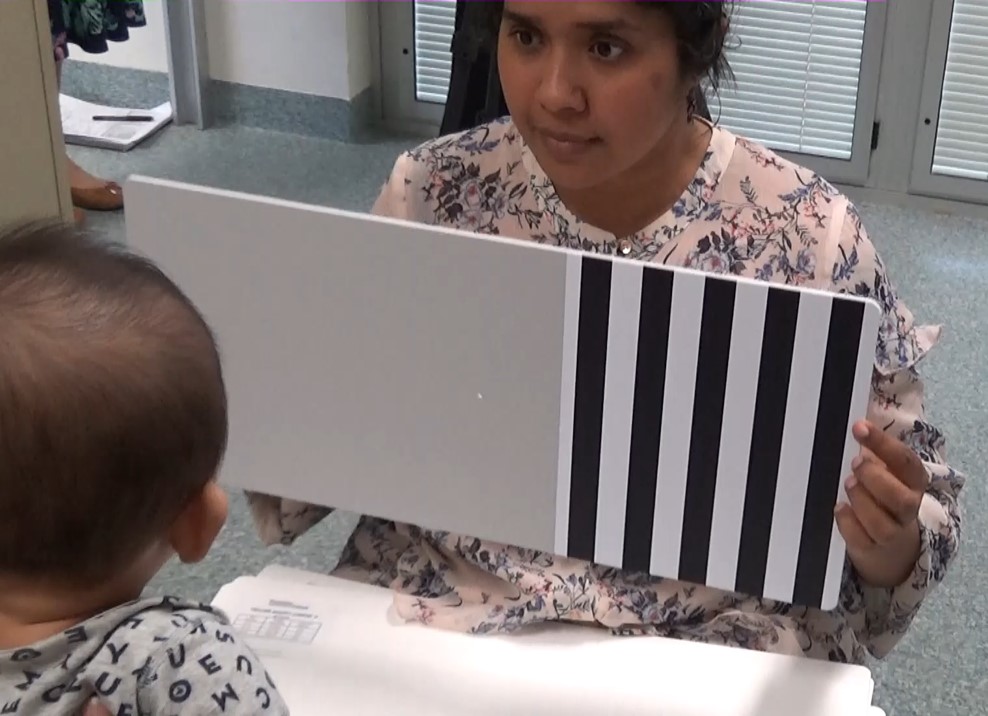 VISIBLE is a multisite randomised controlled trial of early vision-aware and parent-directed environmental enrichment program (VISIBLE). The study aims to determine the feasibility, acceptability and efficacy of the VISIBLE program to lead to greater improvements of visual function, developmental outcomes and parent-infant emotional and relational development, as compared to standard care. Thirty-two infants with cerebral visual impairment will be recruited through neonatal follow-up programs and early detection networks in Pisa (Italy), Queensland, New South Wales, Victoria and Western Australia and then randomised into one of two groups, VISIBLE or standard care. VISIBLE-trained developmental therapists provide parent training, information and demonstration of appropriate activities for the infant either in the family home or via telehealth. Infants are then assessed at 12 months corrected-age on a range of measures including vision, cognitive and motor outcomes. Recently a series of nine parent booklets were designed and given to parents in the VISIBLE group to provide information based on the needs of the infant and the family. Currently 10 infants have been recruited in Queensland through the QEDIN-CP (Queensland Early Detection and Intervention Network – Cerebral Palsy). During 2022 we have continued to recruit babies with CVI and CP in Brisbane, Cairns, Townsville, Perth and Pisa.  The VISIBLE screening and functional vision assessment and Vision Aware intervention was recently trained with the Georgia and Sri Lanka teams in the LEAP program.  In December Dr Swetha Phillip was awarded her PhD entitled: Relationship between Cerebral Visual Impairment (CVI) and brain structure on Magnetic Resonance Imaging (MRI) in children with cerebral palsy.
Contact Details: Bernie Shannon, VISIBLE Clinical Research Occupational Therapist, qcprrc@uq.edu.au.  
This project is funded by Cerebral Palsy Alliance.
Chief Investigators: Prof. Roslyn Boyd, Prof. Andrea Guzzetta, Prof. Iona Novak, Dr Cathy Morgan, Dr Alison Salt, Prof. Cath Elliott, Prof. Glen Gole, Dr Swetha Philip, Prof. Nadia Badawi, Dr Jurgen Fripp, Dr Kerstin Pannek, Dr Susan Greaves, Professor Rodney Hunt, Prof. Russell Dale, A/Professor James Elder, Jessica Tibbs, Anya Gordon, Dr Lizelle Weber, Dr Margot Bosanquet, Dr Marnie Fraser, Dr Peter Schmidt, Dr James Smith, Ms Katie Geering.